August 03, 2020
Week 1 | Orlando Recap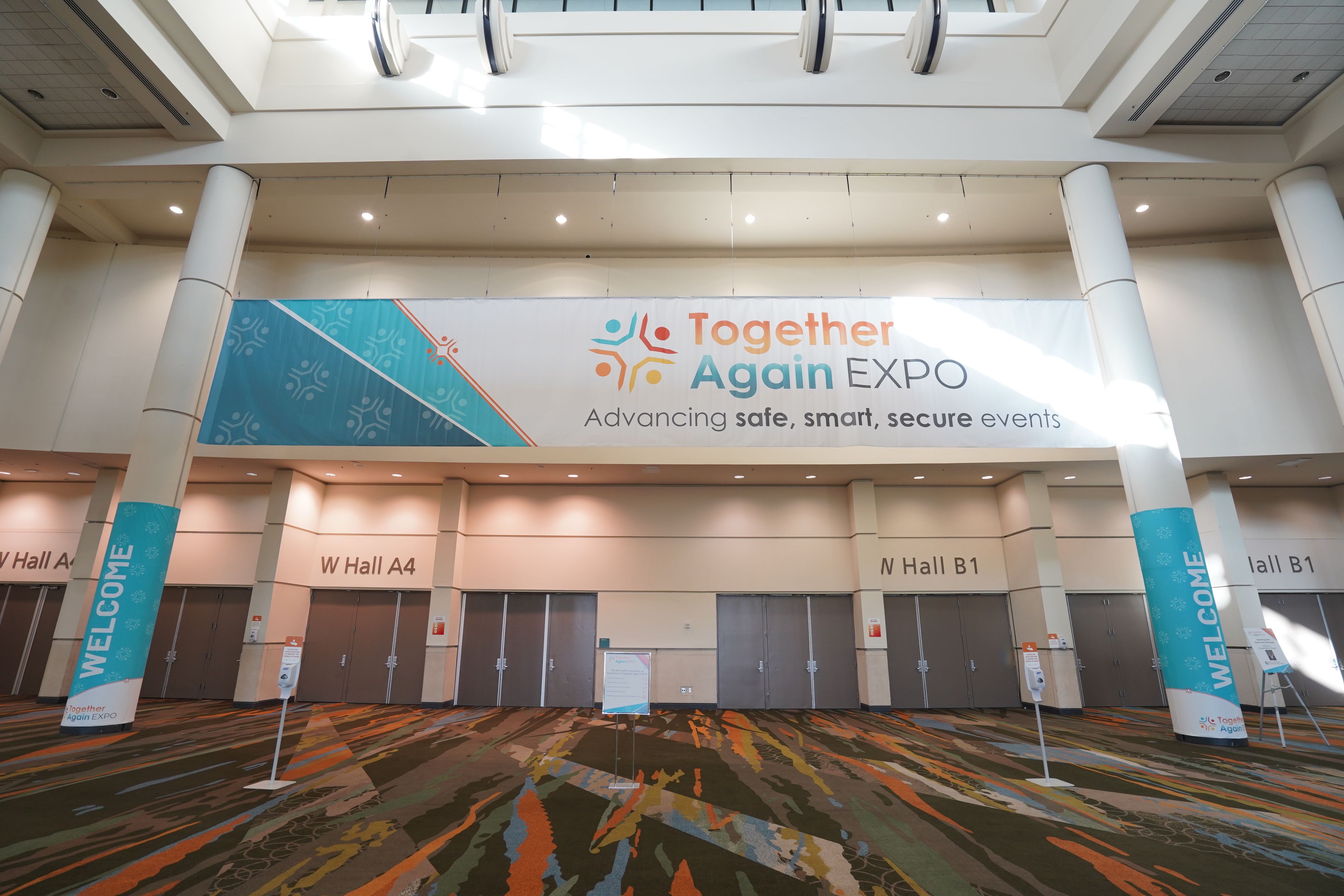 We've all heard that trade shows, as we know it, are gone. We've all been told that in order for our industry to make it, we must come to terms with the "new normal". But, what no one has yet to tell us is what that "new normal" looks like. Until now. Late last month Alliance Nationwide Exposition joined forces with the Orange County Convention Center in Orlando, FL to put on the first industry focused trade show since the global pandemic began earlier this year. More than just being the first, this event is serving as a blueprint for how to do events in the post pandemic life we're all planning for. Thankfully, the event that took place on July 24th wasn't the last time we'll get to see this new model played out in real life. Alliance Expo plans to take this new model around the country - bringing this series right to your hometown.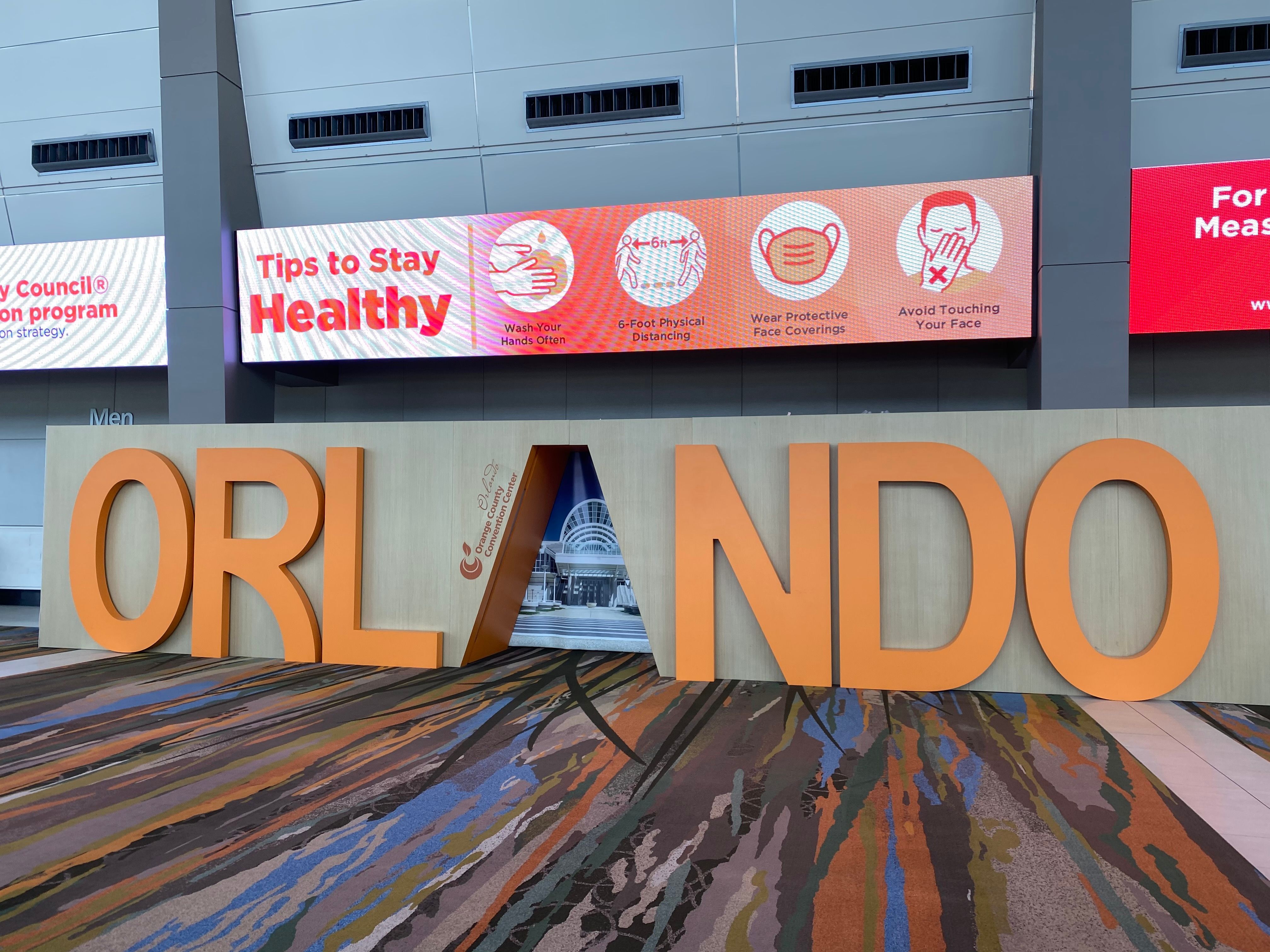 Throughout the next few weeks, I'll be documenting this journey by following the planning and production process of this new event framework. Together, we'll learn how to shift our thinking in how we design shows, plan our budgets in light of less in person attendance and higher AV and cleaning costs. We'll learn about the partnership and collaboration that's necessary between facilities, contractors and show organizers in light of the new GBAC standards and CDC recommendations. We'll discuss how to incorporate sponsorships into all facets of your event, even virtual. Speaking of virtual - throughout the series, we'll discuss how to build an event that serves everyone in the most valuable way rather than simply checking a box.
More than anything, this journey will give us the time we all need to adjust to life with live events again. The struggle at hand is not about having the ability to produce a 100,000 person event, rather, the real work is getting 100,000 people comfortable enough to get back out in public, get in a plane, train or car and rejoin the marketplace. When asked what the overall goals were of the smaller, regional events Alliance Expo plans to put on around the country, Mark Yuska says this time will be used to "prepare and educate our customers while giving the industry a chance to showcase the solutions they've come up with." So that's what's coming up and I hope you're all as excited as I am to watch it unfold. But before that, we first need to look at what came out of the inaugural Together Again Expo. Let's go!
Just What Was The Together Again Expo?
We all knew in order for live face to face events to come back we would need one group - one big group to come in and prove to the world we could do it again. We needed someone to be the first and to do it right. That has finally happened and it's safe to say - we've successfully cleared the first hurdle. During this event, live industry leaders from all over the country came together to showcase the new strategies and tools they've established to ensure the health and safety of today's live events. Providers such as CORT Furniture, Emerald Carpets, Sunbelt Rentals and many more all came out to put show what they plan to do differently. Together Again Expo went all out to ensure the safety of its participants - which we'll get into in more detail in a bit. Bottom line is, the trade show professionals that have been waiting for months to get back to work, showed their time was well spent and proved to the world that events people are the most resourceful and pragmatic group on earth.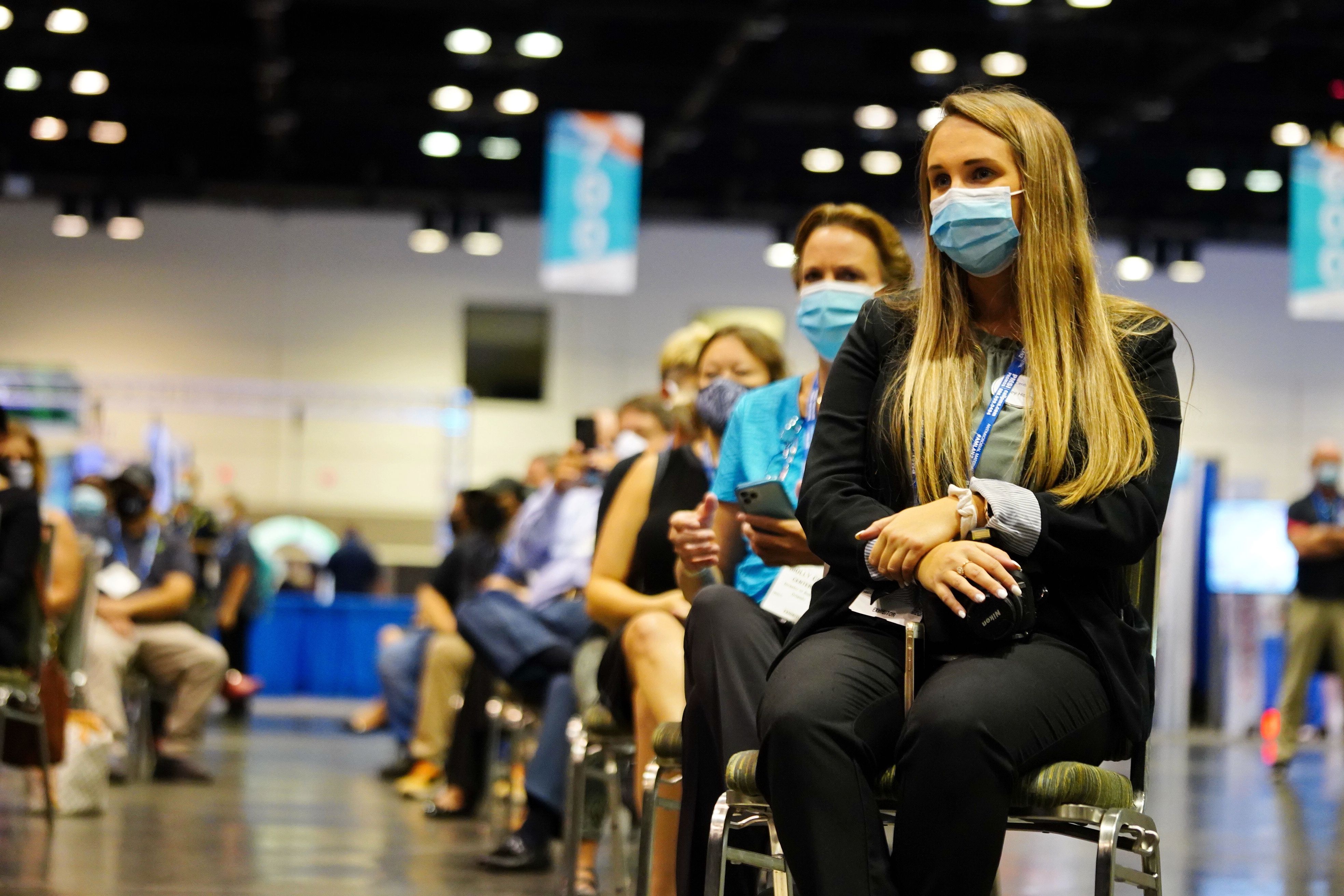 Together Again Expo was the first time since the pandemic lock down that this many people have gathered together for a trade show. With roughly 1,400 live event professionals and 250 exhibitors gathered under one roof, the race was on to see if, as an industry, we'd learned and adapted enough during these last few months to get us all back to work and do our part to get the economy rolling again. Given the fact that Orlando, as well as the rest of the country is still dealing with the containment and logistics of COVID 19, the OCCC was still operating under modified operations for this event. Orlando is one of the country's top 3 COVID 19 hotspots, so by having the convention in this city, there was a message being sent that with the right processes in place, local conditions don't have to prevent traveling or live meetings. Also, the fact that the OCCC is the country's second largest convention center, discredits the argument that the larger the space, the less we're able to control the conditions.
It's also no secret to the events industry that the virtual meeting component is not going away and we're better off planning around it than pretending it's something we won't have to deal with much longer. To that end, Together Again Expo hosted over 8,000 virtual attendees. These attendees were able to view and participate in the opening Main Stage session, live expo coverage with booth interviews as well as educational sessions and panel discussions. Sponsors to this event had tons of opportunities to showcase who they are, what they're doing to keep their customers safe and what they are working on for the future of events. Also, because the event organizers allowed a mix of both in person and virtual speakers, the doors were flung wide open on new possibilities that will bring even more value to an attendees entry price. Even with the success that Together Again Expo had, the event plans to up the virtual component of the program for the future events and realizes this is something that cannot be taken lightly or be planned as an afterthought.
New Age Logistics
The event organizers for Together Again Expo prepared their attendees and exhibitors for what they could expect long before they ever arrived in Orlando. With "Event Safety Tips" videos showing what each person can do to keep themselves and others safe, they were able to reduce the shock of the new live meeting expectations. Also prior to arrival, participants were provided with QR codes via the event app that would be used in their registration process. Once in Orlando but prior to entering the convention center, participants had their temperatures checked. This process will need some tinkering moving forward as we all know that anything required to gain entry can always result in a bottle neck. There were some minor incidents with thermometers not working or readings being high due to someone wearing a baseball cap. All in all - Alan Edwards with Bellwether Show says this system, with a little finesse, will be something he brings back to his clients for their future shows. Once the attendees were cleared, they made their way towards registration, they would then scan their codes at the desks and be given their event credentials as well as a PPE kit. Masks were required for the entirety of the event (both for set up and during show hours) and participants could choose to use their own or the ones provided to them in their kits. Personal sanitizing stations were placed throughout all the public space and, as part of the OCCC's new GBAC accreditation process, the event featured the newly created "sanitization staff" which was used to disinfect all event space surfaces throughout the function. On their way to the expo hall, attendees were guided in one direction for entry and then led out of the expo hall in another direction. The more people an event accommodates, the more difficult this process will be but it's possible to make it work with adequate bodies present to assist in directing.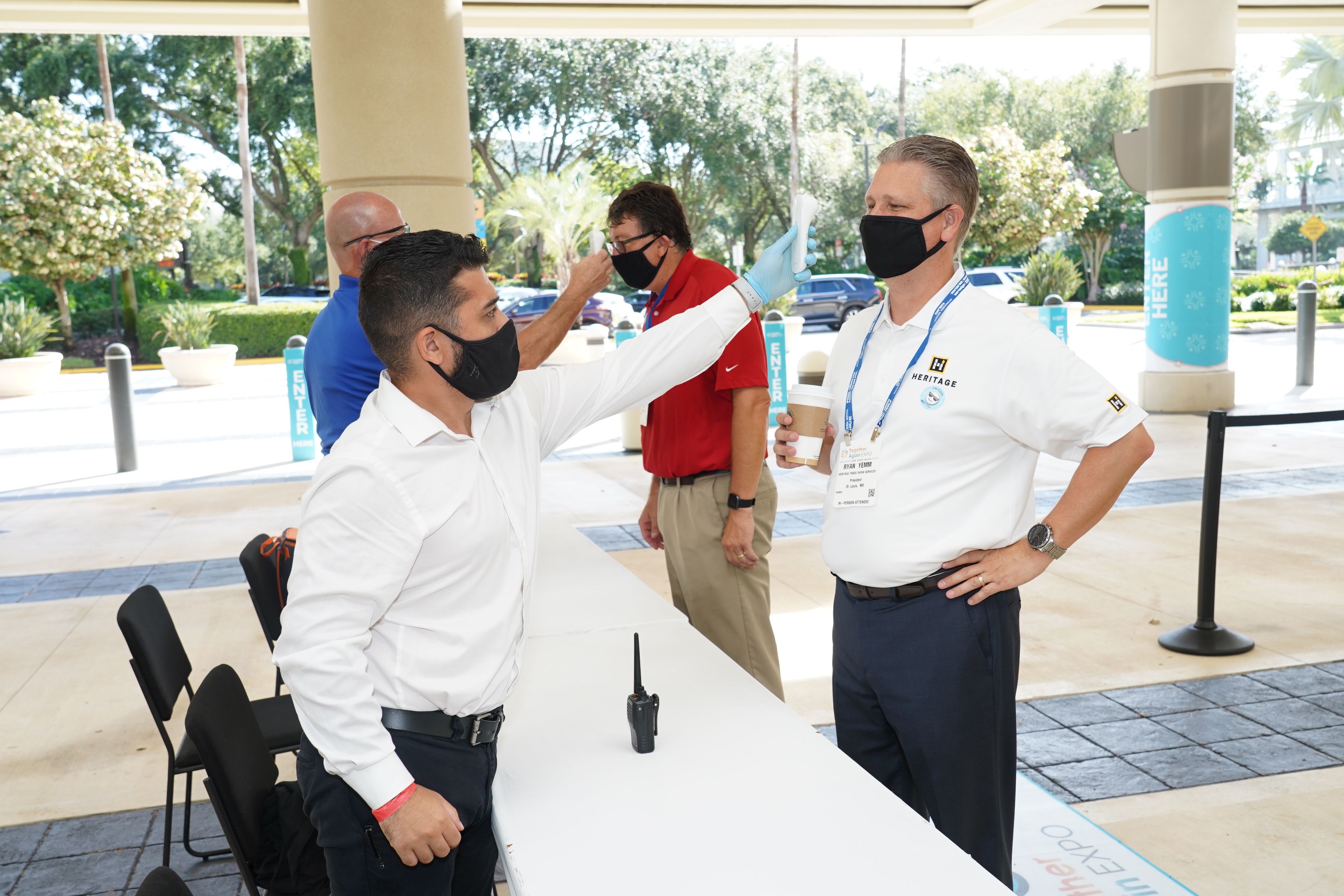 From the moment you walked in, till you left the building, this event felt different. You could still smell the exhaust fumes from the forklifts and hear the hum of people all around you but there were noticeable differences. When you walked into the Main Stage hall, you could see the difference right away. No more long tight rows of people crammed in - the kind of situation you pray you don't have to get up and pee in the middle of. Nope, this time, all the seats were separated with plenty of room on all sides. Even the speakers on the stage were set up to appropriately social distance. This event took careful planning and it was evident in the outcome. The expo hall looked different as well. With aisles much larger and less ancillary items filling the walkways, people were able to move about freely without compromising social distancing. Walking through the trade show, you did see small groups of people congregating around certain booths - but nothing the larger aisles couldn't handle. Besides, in this new trade show model, we want to be sure not to design shows that are so spread out they're no longer good networking opportunities. To do this right, we must bring more value and ROI while keeping people safe when they're with us. It's not the job of the show organizer to prohibit people from being close to each other, it's their job to provide options and adequate spacing throughout so they don't have to be close to each other. The spacing and set up was clearly successful at the Together Again Expo by the fact that large numbers of exhibitors and attendees alike walked away commenting that "lots of sales were made today."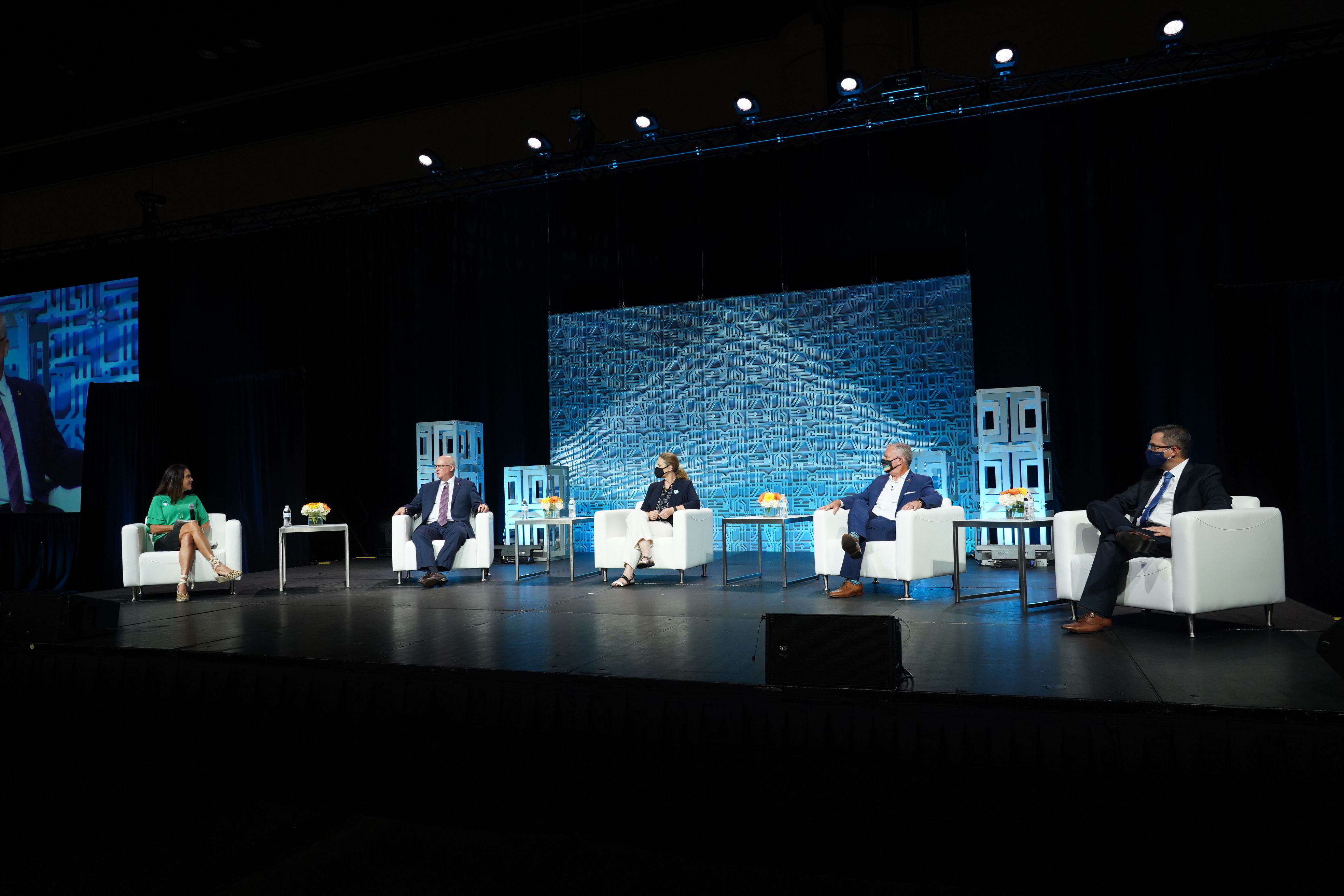 The Good, The Bad and The Stuff We Still Need to Figure Out
Executive Director of the OCCC, Mark Tester when remarking on this event said "Gaining widespread industry attention, this event provided hope, optimism and practical solutions at a time when our industry needs it most." This is true. But as with anything new, there is always a period in which the kinks need to be worked out - and although this event has proven to go further than anything thus far, the same is true here.
Professionals from all facets of the live events industry came out and showed what they've been working on. Nook Event Pods were available for single person or multiple person private meetings. Rather than building the traditional rooms out of metal where lots of people can meet in multiple private meetings, Nook Event Pods provided both privacy and safety allowing for social distancing and the ability to sanitize between users. With this product's versatility and branding ability, there is no doubt we'll be seeing more of these on show floors moving forward. Other products new to a trade show floor were the Sunbelt "Indoor Air Quality" system shown below and Soteria's facial recognition body temperature scanners. The Disinfectant Group's sanitization stations also added another layer of safety with their thermal imaging tech stations. As with any of these new standalone products, the question has been raised as to how much space and for how many people are they logistically able to cover. The indoor air purification systems are great but what is truly needed to cover the space of an exhibit hall and how much is that going to cost the organizer? As with the sanitisation stations, this would be a hugely effective way to control the contagions in your event but in order to not restrict traffic flow, how would this process need to be set up? Staggered check in times? Various check in points? We will plan to bring hard numbers on these products and services in the coming weeks.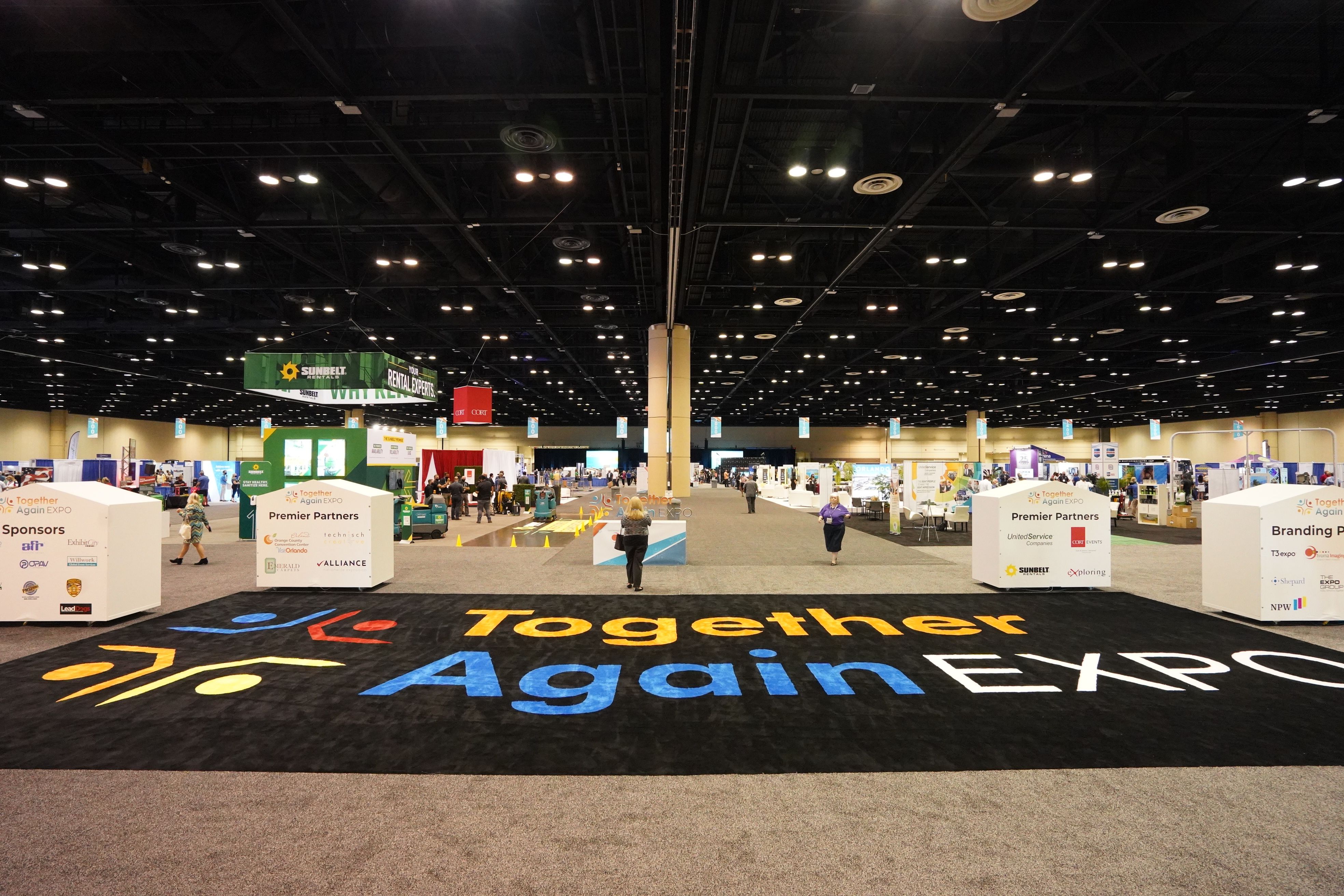 Another change that was witnessed on this show floor was a shift in how recorded interviews were being conducted. No longer did you see people close together holding a microphone in someone's face while they tried to huddle as tightly as possible to minimize background noise. Rather, there were interview areas set up throughout the space - large and spacious - allowing for proper social distancing. Instead of hand mics, overhead boom mics and rolling cameras were used to prevent contamination via equipment and proximity.
Throughout the show floor, you could find floor stickers directing people through the one way aisles. Although the plan behind this was commendable, according to Don Geronimo and Mike O'Meara from The Don and Mike Show, the actual success rate on this, in their opinion, was less than perfect. Their recommendation is that, perhaps in the future, traffic guards can be utilized to assist in keeping people moving in the right direction through the aisles. Besides, anyone who's ever worked a trade show knows how well people notice signage - right? If you'd like to hear the rest of their Together Again Expo post event coverage, you can do so through the link attached.
Another thing that we may need to look at revisiting is the no air conditioning standard during load in and load out. Every set up person knows you can almost bet not to have any air on during these times and even though it's always gotten hot during the summer in Florida, Vegas or most of the country - adding the mandatory masks during this time makes this even more difficult. Working 10+ hours in 90 (or higher) degrees with minimum air flow and a mask on is exhausting in an already tiring environment. Message to show organizers - budget for more air!
Now What?
As mentioned at the beginning, the Together Again Expo is meant to reflect a new model for doing events. The plan is to take this event around the country and prove - city by city and show by show that the American people can trust us and live meetings can thrive in a post pandemic time. By breaking traditionally large events up into smaller and more regional ones, you allow more people to get involved. Remember, it's not about holding one 100,000 person event - it's about getting 100,000 people back to events. This event has provided a much needed jolt of excitement for the people who live and breathe live events. But we're not done yet. Large events are still cancelling well into 2021, cases of COVID 19 are still rising in some parts of the country and people are still unsure about traveling and meeting in large numbers. This event is a start but we'll need a much larger and more vocal message to provide the peace of mind needed to prove to event organizers (and the public) that the trade show and hospitality industry is ready to get back and able to handle the needs of today. While we reflect on where we've come from and learn more about where we're going, we must keep in mind the words of David DeBois, CEO of IAEE regarding this event and the time that we're in, "The snowstorm will end, there are blue skies ahead."